University of California
Forest Research and Outreach
Forest Research and Outreach Blog
Soon after Van Butsic arrived in California in 2013 to join UC Agriculture and Natural Resources, he noticed a pattern. "Fire, water and weed are the three land-use issues that come up no matter who I talk to in this state," he said. Fire and water were well-covered by UC and other researchers already. But cannabis looked to be an unexploited niche.
UCCE Assistant Specialist Van Butsic uses satellite imagery to analyze the environmental impacts of cannabis production.
So Butsic, a UC Cooperative Extension (UCCE) assistant specialist in land systems science in the UC Berkeley Department of Environmental Science, Policy and Management, decided to build part of his research portfolio around understanding the scope, intensity and landscape impacts of cannabis cultivation in California (a research paper from another area of his research, ecosystem service valuation, appears on page 81 of this issue).
While the environmental impacts of cannabis production have drawn substantial media attention, and though it is by many estimates the state's most valuable crop, data beyond anecdotes is scarce.
Butsic attacked the problem by visually analyzing satellite-based imagery, identifying remote plantations and greenhouses in Humboldt County and mapping them using GIS.
This approach required many hundreds of hours of manual inspection of satellite images, and one of the first challenges was figuring out how to do this labor-intensive work. It wasn't difficult to find UC Berkeley undergraduates interested in working for course credit. Nearly 25 students have now contributed to the project, and two (so far) have moved on to full-time GIS jobs after graduation. An anonymous nonprofit organization provided financial support for a part-time staff researcher and to purchase more recent high-resolution satellite data.
This series of satellite images shows the development of a greenhouse complex in a Humboldt County forest. Using satellite imagery in combination with GIS layers showing topopgraphy, watercourses, zoning and other variables, Butsic and his colleagues can characterize cannabis production sites in a variety of ways, such as average slope, proximity to streams, and whether they are located on land zoned for agriculture.
The team has built a GIS data layer for about half of Humboldt County's land area, identifying roughly 300,000 cannabis plants (equivalent to a wholesale value of perhaps $150 million) based on 2012 imagery, with an updated estimate now in the works. The data layer enables a variety of analyses — from the zoning of the land used by cannabis growers (only about a quarter of the 1,429 grows identified were on land zoned for agriculture); to the slope of cannabis production plots, a factor influencing erosion (almost a quarter are on very steep ground, with slope exceeding 30%); to proximity to salmon streams (more than 200 grows were found within 100 meters of critical habitat for steelhead and chinook salmon) (Butsic and Brenner 2016).
Butsic and his colleagues identified approximately 4,400 grow sites in their research. Five percent of those, including the site pictured above, were within 100 meters of salmon streams.
Butsic estimates the absolute volume of water used to irrigate cannabis to be fairly modest — on the order of a few thousand acre-feet. But that figure probably understates the habitat impact of water diversions; water is withdrawn from small watersheds during summer months when water is scarce, and some creeks are known to have been completely dewatered.
The information is helping to inform local debates. Humboldt County recently adopted an ordinance requiring all new cannabis grows to be developed on land zoned for agriculture (existing grows on nonagricultural land are grandfathered in). This policy raises concerns about rapid inflation of agricultural land, as cannabis growers bid up prices beyond what other farm or livestock operations can support. Butsic's work provides insights into the characteristics and geography of lands that are likely to be developed for cannabis production.
Forest fragmentation occurs when cannabis growers clear land and build roads to access their grow sites. The Butsic team's analysis indicates that 68% of grows were located more than 500 meters from developed roads.
Related to this issue, Butsic and several Humboldt County–based UCCE academics — County Director Yana Valachovic, Area Fire Advisor Lenya Quinn-Davidson, and Livestock and Natural Resources Advisor Jeffery Stackhouse — are currently surveying Humboldt County landowners about cannabis-related land use issues.
Butsic's next steps include continued mapping of cannabis production in California, with Mendocino County to be completed by the end of 2017. Given the uncertainty around federal restrictions on cannabis production under the Trump administration, Butsic said it's difficult to predict what the most essential research questions surrounding cannabis will be. Nonetheless, "by continuing to document on the ground patterns of cannabis production, we will be in a position to answer those questions," he said.
Reposted from the Fire Adapted Community Learning Network Blog
I'm sure many of you are familiar with the kids' book "Going on a Bear Hunt." The family in the book is on an adventure that takes them through rough terrain: a swirling, whirling snowstorm; a deep, dark forest; thick, oozy mud; long, wavy grass; and a narrow, gloomy cave. For readers, the suspense builds toward the cave, where a bear awaits in the darkness. But as someone who's done a lot of fieldwork, it's actually the long, wavy grass that makes my skin crawl. What about ticks?!
On Sunday, my son and I made a site visit to a nearby burn unit. As I talked with the property manager about the burn, my toddler ran through the tall grass happily yelling "swishy swashy, swishy swashy" (a line from the book), and it got me thinking — not only about ticks, but about the interactions between ticks and prescribed fire. Ticks have been getting a fair amount of attention in the media lately, and many of the stories are saying that 2017 is going to be a particularly bad year for ticks and tick-borne illnesses. And it's not just Lyme disease that people are concerned about; ticks can cause other health complications, including an allergy to meat products (one of my favorite fire scientists actually has this!). Given the emergence of these novel complications, and the increasing incidence of tick-related diseases in general, it seems more important than ever to understand and explore the various tools we have for reducing tick populations.
To me, it seems intuitive that prescribed fire would be an effective way to impact tick populations. (Have you ever put a tick on top of a woodstove? Toasted ticks don't fare too well!) But there are ecological interactions that can complicate the effectiveness of prescribed fire for tick reduction, and treatment and study design can also have a strong influence on these types of research projects. Thus, it is no surprise that results regarding the relationship between ticks and prescribed fire have been quite variable over the years.
Most studies agree that tick populations are reduced immediately after a prescribed burn. For example, a paper by Stafford et al. (1998) showed that two spring burns in Connecticut reduced nymphal abundance of the blacklegged tick (which causes Lyme disease) by 74 and 97 percent in units with moderate and severe fire effects, respectively. However, by fall of that same year, the abundance of adult blacklegged ticks was no different in the burned areas than in the controls. Similarly, prescribed burning in tallgrass prairies in Kansas significantly reduced the abundance of the lone star tick (which is responsible for the meat allergy issue I referenced above, in addition to other diseases). However, this decline was only during the year of the burn, with no effect in units burned on longer intervals (Cully 1999). These and other papers (e.g., Drew et al. 1985) make it clear that prescribed fire affects tick populations, but results are strongly correlated with the time since burn and with the severity of the burn.
Other research demonstrates the importance of larger ecological interactions in determining post-fire tick populations. A study by Allan (2009), which took place in oak-hickory forests in the Missouri Ozarks, found that only two years after a burn, tick densities were six times higher in burned areas than in controls. In that study, improved forage in the burned areas caused disproportionate usage by white-tailed deer, which are an important carrier of the lone star tick and likely reintroduced them in high numbers to the recently burned areas.
As a whole, these studies don't offer much clarity on the utility of prescribed fire for reducing tick populations — the results are so variable! But a more recent paper in PLOS ONE (Gleim et al. 2014) helps navigate and explain some of the scientific tensions in this collective body of work, and offers a more encouraging and comprehensive perspective on prescribed fire and ticks.
In this study, the authors focused on long-term prescribed burning programs in Georgia and Florida, and they accounted for a number of site conditions, including the burn regimes surrounding each study area. The study included 21 different sites across the region and involved monthly tick sampling, trail camera monitoring of tick hosts, weather measurements and vegetation surveys. In these ways, it is one of the most robust studies of tick-fire interactions to date. And the results are encouraging!
Gleim and her colleagues found that ticks were much more prevalent in unburned controls, and their modeling efforts showed that total tick counts were related to a number of variables, including the long-term use of burning, season, litter cover and tree density (2014). Of particular note is their finding that adjacent burn regimes (burned or unburned) had a significant effect on post-burn tick populations, both in numbers and species. This may explain some of the variance in past studies, and it highlights the importance of considering the larger landscape management context and the importance of edge effects when assessing the effectiveness of prescribed fire projects. We know this to be true in the invasive plant context (e.g., Berleman et al. 2016), but it also appears to be true for ticks.
But perhaps the most important finding in Gleim et al. is that the effective control of tick populations depends on the long-term use of prescribed fire. I appreciate this point because all too often, studies are based on a single prescribed fire treatment, even though we know that in many cases, it is the fire regime — and not just the individual burn — that we are trying to understand through our research.
In any case, I've decided that the unit my son and I visited on Sunday probably wouldn't be a great candidate for a tick-focused burn. It's only about three acres in size, probably hasn't been burned in 100 years and is surrounded by fields of tall grass. (Luckily, tick reduction is not the goal of that burn.) However, I think there is potential for a great new kids' book: "Going on a Tick Hunt," complete with a section on the long-term benefits of prescribed fire!
References:
Allan, B. F. (2009). Influence of Prescribed Burns on the Abundance of Amblyomma americanum (Acari: Ixodidae) in the Missouri Ozarks. Journal of Medical Entomology, 46(5), 1030-1036.
Berleman, S. A., K. N. Suding, D. L. Fry, J. W. Bartolome and S. L. Stephens (2016). Prescribed Fire Effects on Population Dynamics of an Annual Grassland. Rangeland Ecology and Management, 69(6), 423-429.
Cully Jr, J. F. (1999). Lone Star Tick Abundance, Fire and Bison Grazing in Tallgrass Prairie. Journal of Range Management, 139-144.
Drew, M. L., Samuel, W. M., Lukiwski, G. M., and Willman, J. N. (1985). An Evaluation of Burning for Control of Winter Ticks, Dermacentor albipictus, in Central Alberta. Journal of Wildlife Diseases, 21(3), 313-315.
Gleim, E. R., Conner, L. M., Berghaus, R. D., Levin, M. L., Zemtsova, G. E., & Yabsley, M. J. (2014). The Phenology of Ticks and the Effects of Long-Term Prescribed Burning on Tick Population Dynamics in Southwestern Georgia and Northwestern Florida. PLOS ONE, 9(11), e112174.
Stafford III, K. C., Ward, J. S., & Magnarelli, L. A. (1998). Impact of Controlled Burns on the Abundance of Ixodes scapularis (Acari: Ixodidae). Journal of Medical Entomology, 35(4), 510-513.
Reposted from the Confluence, California Institute for Water Resources
B
log
Watering holes can be hard to come by in the high desert of northeastern California. Pronghorn, deer, cattle, and wild horses are all visitors to the springs and ponds scattered across the often dry grasslands. The number of wild horses has jumped quickly in recent years, bringing a host of water-related challenges, and no small amount of controversy.
Laura Snell, a livestock and natural resource advisor with UC Agriculture and Natural Resources, knows the controversy well. She's been monitoring frequently visited water sources in the area for a couple of years. Her research shows that at times more than 70 percent of animal visits to springs are by wild horses, with cattle making up another 20 percent.
Wild horses, descended from domestic horses, are covered under a federal law focused on coexistence with livestock and wildlife. That has meant rounding up wild horses with some regularity because they have few natural predators and their populations grow quickly. However, legal and financial challenges have stalled wild horse management over the last few years.
As a result, in one part of the Modoc National Forest known as Devil's Garden, there are now around 3,000 wild horses in an area estimated to sustain only 200-400. While cattle tend to be closely monitored and rotated to different pastures, that is not the case for wild horses. Therefore, the rise in population is challenging for both livestock and ecosystem managers; horses crossing local highways are even becoming a challenge for transportation officials.
To better understand what has been happening on the land, Snell and her collaborators with the US Forest Service and, more recently, UC Davis, hike Modoc and Lassen counties installing wildlife monitoring cameras. Snell also measures vegetation and stream bank changes several times a year. The team is looking at impacts that include trampled habitat, reduced vegetation, and decreased water quality.
But, monitoring is only one part of the job. The other is navigating the human emotions attached to wild horses. From ranchers to wild horse advocates, and the whole spectrum between, people tend to have very strong feelings about the horses.
Wild horses also have direct implications for livelihoods in this rural area. Snell says, "Next year we'll have two ranchers who are not allowed to use their permitted allotments at all – and many more that will have proportional cuts – due to the large number of wild horses. These cuts affect our local economy and relationships with the government. And the cuts to cattle allotments still don't provide respite for degraded ecosystems."
For Snell, engaging with wild horse issues has meant learning new skills to complement her scientific and technical expertise. She recently took a facilitation course to better prepare herself to guide meetings and help groups with differing opinions work together. She says, "I'm trying my best to listen first and then to focus on the best science available."
Snell recently partnered with colleagues at the Modoc National Forest to foster dialogue between diverse groups concerned about wild horses. "Bringing people together who are on completely different sides of the issue and seeing them talk and find common ground can be really rewarding," says Snell.
As the group sat at the spring and talked about the ecosystem and economic impacts of wild horses, emotions began to run high under the hot afternoon sun. On the walk back to the parking area, people had time to think. They then regrouped to talk about what they learned. It was clear that it was only the first conversation in one of many that would be needed, but it did allow for some new insights and relationship-building. Snell says she can sometimes leave these events a "bit frustrated and exhausted, but also encouraged to reduce misunderstandings around the research on these horses."
"I think it's difficult to understand the complexity and scale of the wild horse issues in the western US. It is not just about horses, it's about rural economies, wildlife habitat, and multi-use public lands." There is still a ways to go, but Snell is glad her research is relevant and timely, and that it is of direct use in public land management decisions.
/span>
Reposted from UC Merced News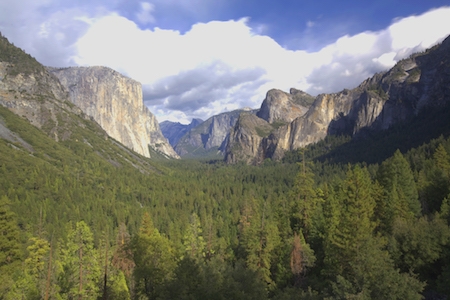 Yosemite Valley in the western Sierra Nevada Mountains.
What if nature were to become a polluter, discharging millions of tons of planet-warming carbon into the atmosphere in much the same way as diesel-fueled trucks or coal-fired power plants?
This nature-as-polluter scenario might seem far-fetched, but it's well on its way to becoming reality, according to a recent study co-authored by UC Merced Professor LeRoy Westerling.
In a paper published recently in Scientific Reports Opens a New Window.— "Potential decline in carbon carrying capacity under projected climate-wildfire interactions in the Sierra Nevada" — Westerling and collaborators from the University of New Mexico and Penn State University used three climate models and data from the Intergovernmental Panel on Climate Change to examine how rising global temperatures and increasingly severe wildfires will affect Sierra Nevada forests.
Their conclusion: Changing conditions will turn today's Sierra Nevada forests into tomorrow's greenhouse gas emitters.
"Forests play an important part in regulating the levels of atmospheric carbon," Westerling explained. "Forests are carbon sinks, essentially giant stockpiles of carbon. Forests are also active carbon consumers. They remove carbon dioxide from the air and convert it into biomass. This traps the carbon, which is no longer free to act as a greenhouse gas in Earth's atmosphere."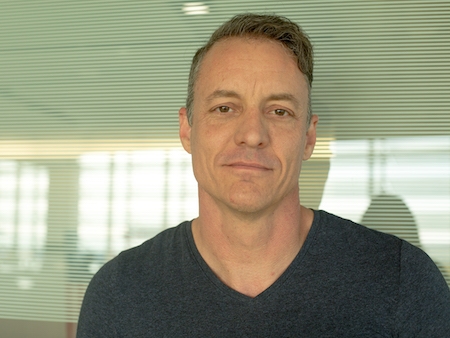 Professor LeRoy Westerling
But projections from Westerling and colleagues suggest that this may change. According to their models, Sierra Nevada forests will experience both a dramatic loss of stored carbon and a substantial decline in their ability to remove CO2 from the atmosphere.
Rising temperatures are creating a warmer, drier Sierra Nevada climate. Westerling previously showed that these changes are leading to dramatic increases in the frequency, size and duration of wildfires. The new study suggests that these same changes will make it harder for forests to regenerate, leading to a loss of forest density, with plants better suited to the new climate eventually replacing trees.
"As trees are displaced, the Sierra Nevada will lose its ability to sequester carbon," Westerling explained. "The plants that spring up in their place will be significantly smaller, making them less effective carbon sinks than the trees they replaced."
But the carbon stored in forest trees has to go somewhere.
As trees are burned in more frequent wildfires, and as dead trees undergo decomposition, Westerling and his colleagues predict that as much as 73 percent of the carbon in Sierra Nevada forests will be released, resulting in a dramatic spike in atmospheric carbon. This will transform the Sierra Nevada from a carbon sink into a carbon emitter, making the nature-as-polluter scenario a reality.
Westerling and his collaborators note that their predictions are actually conservative. The effects might be more extreme than their models suggest.
"Our study does not account for a number of factors that might influence the dynamics of forest carbon," Westerling said. "However, the factors we ignored are likely to accelerate the loss of forest. Our predictions likely underestimate the severity of actual effects."
Though the predictions are alarming, the authors remain optimistic, hopeful that their findings can contribute to a larger conversation about environmental policy and promote avenues of research that lead to sustainable forest management.
Reposted from the UCANR report
Wrapping up a remarkable 37-year career with UC ANR, Richard B. Standiford IV, UC Cooperative Extension forest management specialist at UC Berkeley, will retire June 30.
In addition to being a highly regarded forestry expert, Standiford served as UC ANR's associate vice president from 2005 to 2009, and provided stability for the division as acting vice president during the 11-month transition from Reg Gomes stepping down to retire until Daniel Dooley succeeded him as vice president in 2008.
"There are a select few individuals who both excel at research, teaching, service and outreach and can lead and motivate others to try to do the same. Rick belongs to this rarest subspecies of academic," said Keith Gilless, dean of the College of Natural Resources at UC Berkeley, who has worked with Standiford for 35 years.
In 1980, after working two years as a research and extension forester at Purdue University, Standiford joined UC Cooperative Extension at UC Berkeley. The New Jersey native developed a research and extension program focused on sound management of California's forests, rangelands and other natural resources.
Standiford "personifies all that is best about Cooperative Extension," said Maggi Kelly, director of the UC ANR Statewide Informatics and Geographic Information Systems Program, professor and Cooperative Extension specialist in the Department of Environmental Sciences, Policy & Management at UC Berkeley.
His legacy in Cooperative Extension continued to grow as associate vice president of ANR, says Peggy Mauk, former director for Central Coast and South Region.
"Rick empowered people, empowered regional directors and county directors to implement programs for the betterment of California," Mauk said. "Rick had the ability to bridge the gap between administrative concepts and regional (county) implementation. He wanted to know how higher level decisions would impact ANR's county-based personnel and programs and then adjust for those impacts. Above all, Rick valued people and positions, and supported the ANR mission."
He also has provided leadership for county Cooperative Extension advisors developing programs in forestry and conservation of oak woodlands.
"Rick has a tremendous ability to pull people together," said Yana Valachovic, UCCE director and forest advisor for Humboldt and Del Norte counties, noting his leadership in getting people to work together to contain sudden oak death disease. "It takes passion, vision and an ability to communicate effectively."
While tackling the emerging forest disease, Standiford also devoted time to mentoring young scientists.
"Early in 2000, Rick bounced into my office with the news that he had found emergency funds to study the disease, and had assembled a team of pathologists, ecologists, arborists, homeowners and forest managers to attack the problem," said Kelly, a remote-sensing expert. "Rick asked if I would be able to use the money to fly to Marin County and develop critical baseline maps of the nascent disease. I was, and I did, and that generosity and foresight launched my applied research and extension program at Berkeley."
"The disease was subsequently named Sudden Oak Death, and in 2015 ANR was been given a nationwide award in extension for its timely, quality, impactful multidisciplinary approach to the disease," Kelly said, "and it all started with Rick."
Standiford said working with people was the part of his career he enjoyed most. He recalled driving with UCCE colleagues to Mariposa County to deliver a workshop on managing oaks.
"The sun was setting, it's pretty dark, pretty desolate and we're wondering, 'Is anybody going to be at the workshop?'" Standiford said. "At the grange hall in Catheys Valley, there's a ton of pickup trucks and cars. Inside, everybody is excited that the university has shown up to help figure out how to manage their trees. That's what my job has been about. It was always a lot of fun."
An early adopter of technology, Standiford has used webinars to teach oak woodland management from a distance. While acknowledging the convenience of virtual meetings, he said, "I hope we don't lose sight of the value of personal contact."
From 1985 to 1987, Standiford served as ANR program director for natural resources, leading efforts in forestry, wood products, wildlife and range management.
From 1988 to 1999, Standiford led collaboration among UC, the California Department of Forestry and Fire Protection, and the California Department of Fish and Game for the ANR statewide Integrated Hardwood Range Management Program, which was established in 1986 by the California Legislature to address poor oak regeneration and ongoing woodland losses. The program continued for 23 years until its budget was cut in 2009.
At UC Berkeley, he coordinated all Cooperative Extension activities in the Department of Forestry and Resource Management from 1989 to 1993, served as associate dean for forestry and director of the Center for Forestry from 1998 to 2002 in the College of Natural Resources, and oversaw the College's capital projects program, space planning and research infrastructure as associate dean for forestry and capital projects from 2002 to 2004.
In retirement, Standiford plans to teach at the UC forestry camp and remain active with the Society of American Foresters. He also plans to travel with his wife, Judy, and spend time coaching and camping with his five grandchildren
"I have been blessed with the most wonderful job in the world," Standiford said. "The best part was the honor of working with such wonderful people on campus, in the counties, and the wide group of landowners and managers who taught me so much."