University of California
Forest Research and Outreach
California Forestry News
Reposted from Breakthroughs, the magazine of the UC Berkeley College of Natural Resources

Retired geologist Gary Raines leads naturalist students on an all-day field trip. PHOTO: Courtesy of Paul Kirchner Studios, all rights reserved
"Birds are mobile indicators of ecosystems," wildlife biologist Walter Clevinger tells a group of California Naturalist students bundled against the early-morning cold. At 7:15 a.m., the group had just crunched across a frosty meadow at Sagehen Creek Research Station, 10 miles northeast of Truckee, to check netting for ensnared birds. "They need food, cover, and water just like us. They help us understand how these meadows are changing and what's causing the changes."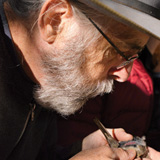 Walter Clevinger blows on the belly of a dusk flycatcher to determine its sex. PHOTO: Courtesy of Paul Kirchner Studios, all rights reserved
Back at the picnic table that serves as a temporary classroom, Clevinger pulls a tiny dusk flycatcher out of a cloth sack and leads students through a series of procedures. He measures the wing and beak and determines the sex by blowing the feathers up on the belly — a female's breast, reddish from increased blood flow, will "unzip" to help warm the eggs. The bird looks peaceful as it submits to Clevinger's steady grip, resigned to the intimate transaction between species. He attaches a tag to its leg and releases it.
Next to him, Jen Cubias grips a pencil and clipboard through thick gloves and records information. The self-declared "bird nerd" has been volunteering at Sagehen this past summer, helping Clevinger gather data that is part of a national study on bird survivorship. She took the 10-week California Naturalist course herself the previous summer, earning one of the new statewide program's first certifications, which are issued by the University of California Cooperative Extension (UCCE), a land-grant educational outreach organization known for its agricultural research and extension programs, and for running the 4-H Club and Master Gardener programs.
"They get 10 weeks of training, they get certified, and they want to do more."
Sagehen's summer course is just one of ten being offered across nine California counties this year as the new program emerges from a yearlong pilot to scale up across the state. Other states, like Texas, Minnesota, and Virginia, have thriving naturalist trainings, but California's is destined to be the biggest in the United States, and it's an early adopter in a new trend to redefine naturalist work, merging conservation with public participation in scientific research, known as citizen science.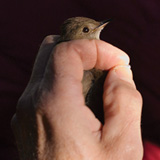 Walter Clevinger blows on the belly of a dusk flycatcher to determine its sex. PHOTO: Courtesy of Paul Kirchner Studios, all rights reserved
"Contributing to scientific research is a relatively new option for people wanting to volunteer for conservation," says Heidi Ballard, Ph.D. '04, Environmental Science, Policy, and Management (ESPM), a professor of education at UC Davis and principal investigator on a National Science Foundation (NSF) grant that supported the integration of citizen science into the program's curriculum. Aspiring naturalists can choose research participation — stewardship and education are the other options — for their service hours, which their local course providers may either suggest or require.
Keeping It Local
Before citizen science could be included in the naturalist curriculum, a structure had to be created for a state with an enormous diversity of people, institutions, and ecological systems. Adina Merenlender, the program's co-founder and a Cooperative Extension specialist affiliated with ESPM, says she and co-founder Julie Fetherston, a former UCCE county advisor, addressed those challenges by using a "course in box" approach that allows partner organizations to tailor it for their own localities.
Connect with the New Naturalists
"We're a big state — 38 million people. We also have more bioregions than any other state, a lot of environmental issues, and a lot of institutions — museums, gardens, outdoor education groups — so it took us a while to ground-truth the whole thing," explains Merenlender. A year-long soft launch gave her and co-authors Deborah Edelman and Greg de Nevers valuable user input on an early draft of The California Naturalist Handbook, the official course textbook, published by UC Press this year, and helped them learn how best to implement a collaborative, trainer-to-trainer model.
Partner organizations adjust the training to their local ecosystem and, by doing their own instructor and student recruitment, tap local expertise and serve their respective communities. UC provides the curriculum materials and the handbook, and qualifies each institution and teacher to ensure that UC's high standards and science-education goals are met.
"We cover a lot of management of natural resources and environment issues," Merenlender says. "What are natural resources? What are California's major ecosystems? The curriculum could come right from ESPM — physical sciences, ecological and biologic science, and environmental issues in policy and management."
Redefining the Naturalist
Adina Merenlender PHOTO: Lauralyn Curry-Leech
The mix of summer students at Sagehen reveals a lot about the program and its potential ripple effects across the state, for both scientific research and the burgeoning community of certified naturalists it is producing. Some had strong science or education backgrounds. Young people and soon-to-be-retirees were looking toward first or second careers. But they all shared a mission to align their lives with their passion for the outdoors.
The enthusiasm is palpable on an all-morning geology field trip that is a nonstop frenzy of looking, touching, sniffing, photo-snapping, notebook-scribbling, and attempting to identify every rock, tree, wildflower, and bug along the trail. Gary Raines, a retired geologist from United States Geological Survey who is leading the hike, approves. "What we're doing here is wandering intelligently instead of wandering aimlessly," he explains as he guides students through some detective work to discern the movement of an ancient glacier.
Not surprisingly, the course is a magnet for teachers, and its effects will be felt in the schools as the program grows. "We have this nature trail and basically people just go for walks on it, but no one really understands what's there," says Terry Golub, a third-grade teacher from Grass Valley.
She plans to use her training to create a teacher's field guide for the trail. Lynn Hori, a retired high school teacher from Palo Alto, wants to help kids connect what they are learning in biology to the world outside the classroom. She's focusing her capstone project, required for certification, on a stewardship program she plans to implement in her former school district.
Chauncey Parker emerges as the go-to person for the names of the various species. He should know — currently an outdoor educator for Gateway Mountain Center in Nevada County, he has been doing naturalist work since he was 15. He took the program to mingle with the experts and build a network of colleagues.
In college, Janet Zipser Zipkin, Haas'74, M.B.A. Haas '76, a UC Berkeley business alumna now retired from a marketing career at Stanford, used to play volleyball with classmates who were studying forestry and the environment. "I'd say, 'hey, look at that butterfly that flew across the net, that's a ... ,' and they'd say, 'what are you doing in business school?!'" Zipkin remembers. "Well, I had my career and raised my kids and now I get to do what I'm passionate about. Don't you just love it? It's like camp for grown-ups." On the board of the Truckee-Donner Land Trust, she already has the passion and commitment, so the program's basic science and naturalist skills are "exactly what I need. I'll make a better board member because I understand the land better."
Griffin says the course, and especially its citizen science component, has also given her the confidence to get more involved in volunteer research. "We have a lot of groups like that in Nevada County, but I wasn't quite ready to jump in. Now I feel like I can do that."
A Community of Doers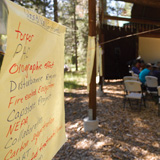 Students gather in the outdoor classroom at Sagehen Creek Research Station, near Truckee, Calif. PHOTO: Courtesy of Paul Kirchner Studios, all rights reserved
That's just what Ballard and Merenlender, who also worked on the NSF grant, had in mind. The latest cool app may make the evening news, but, Ballard says, "public participation in scientific research has been going on for 20 years before the Web and app revolution." For example, teams of people can adopt a stream to do water-quality monitoring. "The naturalist program is helping make all these different kinds of projects available and training naturalists to participate." Ballard developed a database that makes finding a project as easy as deciding what you're interested in. It's searchable by keyword and organized by county to facilitate community-based activities.
In addition to locally based groups, a larger community of newly certified naturalists is growing, lively, and vocal.
"What we're learning from the early pilots is that the first thing they want to do is participate," Merenlender says. "They get 10 weeks of training, they get certified, and they want to do more. They want to do service. They want to interact with each other. They want to get more information on nature. They're real doers, and at Cooperative Extension, our work is about galvanizing that energy."
Case in point: Kaitlin Backlund was so inspired when she finished her certification last summer that, at the suggestion of Sagehen's directors, she developed a workshop on the online database iNaturalist, which she gives to local volunteers as well as naturalist students.
Working the Networks
Via the website or mobile app, people anywhere in the world can upload photos and the GPS locations of species to the iNaturalist database and confirm each other's sightings. Developed as the master's thesis of three UC Berkeley School of Information students, iNaturalist is now approaching 20,000 registered users and has been adopted by the California Naturalist Program as its official data repository and online journaling tool.
But iNaturalist is just a tool. "The reason people do citizen science is because it's social, fun, and people can contribute to something they care about," Ballard says. "It's one thing to be social online, but even better when it's social in person, outdoors."
That social aspect makes citizen science and naturalists the perfect marriage. With this burgeoning new community — both live and virtual — California is only beginning to feel the new wave of activism as the program looks ahead to its third year.
Connect with the New Naturalists
/h4>/h4>/h4>/h4>/h2>/h4>
BERKELEY – In late July, UC Berkeley fire ecologist Scott Stephens was working in Stanislaus National Forest, gathering data on how a century had altered its character. What he saw were the signs of a clear and present danger.
"The thing that was startling was that there was more change than I ever would have imagined," recalls Stephens, a professor of fire science who devotes much of his time to field research. "I remember thinking, 'Boy, this place is really susceptible to high-severity fire.'"
On Aug. 17 the Rim Fire ignited, changing the forest far more, and in far less time, than anyone could have imagined. The blaze scorched hundreds of square miles — roughly a quarter-million acres — in the Stanislaus, and thousands of acres in neighboring Yosemite National Park. It left what has been described as a moonscape, in the process killing wildlife, destroying habitat and – as he discovered when he returned in September – reducing his 400-odd research plots to embers.
Stephens had left the area by the time the fire erupted, but four of his Berkeley undergrads — summer technicians supervised by a member of his research team — were still taking readings a few miles from ground zero. They were in regular contact with the U.S. Forest Service's district office, he says, and "realized in a hurry they had to leave."
The Rim Fire, to Stephens' distress, confirms the most urgent finding from decades of research. As he and his co-authors wrote in a paper published this month in Science, "Fire policy that focuses on suppression only delays the inevitable, promising more dangerous and destructive future fires."
"We know that taking fire out of ecosystems is a big deal in places like mixed-conifer forests, which used to burn every decade or so," he says. Then, in 1905, the Forest Service was established – not coincidentally, the year the last fire occurred in the area Stephens was studying. It wasn't long before the agency began implementing its so-called 10 o'clock policy, which called for extinguishing every fire by 10 a.m. the morning after it was discovered.
But by clearing out understory, those smaller, low-intensity fires once acted as natural firebreaks against larger, more damaging fires. Acording to survey data, Stephens says, a section of one of his research plots had 19 trees per acre larger than six inches in diameter in 1911. When he and his students were there in July, they found 260 such trees per acre, "an astonishing difference."
Even as density has increased, though, the average diameter has dwindled as younger trees fill in the spaces between older, bigger ones. And the amount of dead and downed material on the forest floor has quadrupled or even quintupled, Stephens says, to perhaps 40 tons per acre. That adds up to an unprecedented "continuity of fuel," he says, enough to feed a raging inferno fierce enough to destroy the imposing, old-growth Douglas fir and ponderosa pine trees beloved by visitors to Stanislaus and Yosemite.
"A lot of places in the Sierra Nevada have been harvested so thoroughly, the big old trees are gone," says Stephens, who grew up in a lumber-mill family. "But this place was different. It still had trees that were three-and-a-half, four feet in diameter. These are trees that are 300 years old, easy.
"So I was standing there thinking, 'My goodness, here are these trees that are really important, we don't have them in all national forestlands, and they're vulnerable. And then we went back, and every one of those trees was dead. And it wasn't just that area. It was miles. Miles and miles of dead trees. It was really kind of sad."
'A decade to change course'
"I was really a forest person in a big way when I was a young kid," says Stephens, though not, perhaps, in quite the way he is now. Both of his parents worked at Humboldt County's Pacific Lumber Co., as did his grandfather and three of his uncles, before the company fell victim to a notorious hostile takeover in 1986.
"It was so close to me that I never saw it as all that special," he says. He earned his undergraduate degree, in fact, in electrical engineering, worked as an engineer for the U.S. Department of Defense and lectured at Sacramento State, his alma mater, for a number of years.
He'd just begun Ph.D. work in electrical engineering at UC Davis when he was introduced to the realm of natural sciences and "knew it was in my heart to follow it."
"I liked electrical engineering," he explains, "but I just didn't love it."
He loves fire science. He seems to derive special pleasure from his work in research stations like the UC Berkeley-run Blodgett Forest near Auburn, where he and his students conduct experiments with prescribed burns. They set these themselves with drip torches, steel cans with a highly combustible mix of diesel and gasoline set off by a burning wick.
"That's the fun part," says Stephens, who acknowledges it can sometimes be intense as well. "Every fire you're on you learn from, because they're always a little different – the wind changes a little bit, the weather changes a little bit, the fuel changes, the topography's different. So every one is a learning exercise."
Among the most crucial lessons, he says, is the ecological importance of natural forest fires, and the counterproductive nature of suppression. Climate change and drought, he adds, only exacerbate the dangers.
The good news, he says, is that more and more land managers appreciate the vital role natural fires and controlled burns can play in preventing future Rim Fires. The bad news: Population growth in and around national forestlands, combined with budget constraints on both federal and state agencies, greatly complicates the task of adapting management policies to forests' need for smaller, more frequent, less destructive fires.
The National Park Service has recognized this for decades – which helps to explain why the Rim Fire wreaked most of its destruction outside Yosemite's borders – and even the Forest Service has recently seen the light, Stephens says. But the agency has been hampered by the need to protect homes and structures, which means putting fires out instead of letting them burn.
"People living in the urban interface have really changed the whole fire dynamic," Stephens explains, "because now, when a fire starts, if it's near anyplace that's got people, all of the engines go to structure support. They try to defend houses, they cut shrubs around them, they burn out away from them and they basically put fires out that are coming in.
"Structure protection costs a fortune," he adds.
The nation's fire-suppression budget has soared from around $300 million in 1995 to $2 billion today, an increase Stephens attributes in large part to persistent building in forested areas – including those where fires have occurred. "Unless there's some way to link the real costs associated with that," he says, "I see no reason to change."
As long as the U.S. government keeps subsidizing fire management in the urban interface – where it has no authority to restrict private building — federal agencies won't have the resources to ensure more sustainable forest ecosystems, Stephens says. He and his Science co-authors suggest making the states responsible for the costs of firefighting in the urban interface. The recommendation, which would require an act of Congress, is "heartburn city for California," he admits, and won't be popular with other budget-strapped states, either.
"I'm just trying to figure out a way work can get done on these lands," Stephens says. "I think we have a decade to really change course."
"I do think that we know enough," he says, to make critical policy changes. "The science is getting more and more clear. The vulnerabilities are very clear. So I am optimistic that things could change. I'm optimistic that Congress could engage at some time, and really make a difference. When it's going to happen, I don't know."
To Stephens, though, failure to act isn't an option: "I think the stakes are so high that, for me, it's almost unimaginable that we don't change course."
/h4>/span>
BERKELEY October 22, 2013 reposted from the UC Berkeley News Center

As firefighters emerge from another record wildfire season in the Western United States, University of California, Berkeley, scientists say it's time to give them a 21st century tool: a fire-spotting satellite.
An artist's concept of the FUEGO satellite, which would snap digital photos of the Western U.S. every few seconds in search of hot spots that could be newly ignited fires. Image by R. E. Lafever, Lawrence Berkeley National Laboratory.
Such a satellite could view the Western states almost continuously, snapping pictures of the ground every few seconds in search of hot spots that could be newly ignited wildfires. Firefighting resources could then be directed to these spots in hopes of preventing the fires from growing out of control and threatening lives and property.
The UC Berkeley scientists have designed such a satellite using state-of-the-art sensors, written analysis software to minimize false alarms, and even given it a name – the Fire Urgency Estimator in Geosynchronous Orbit (FUEGO). They're hopeful it can be built for several hundred million dollars, either by government or private entities.
"If we had information on the location of fires when they were smaller, then we could take appropriate actions quicker and more easily, including preparing for evacuation," said fire expert Scott Stephens, a UC Berkeley associate professor of environmental science, policy and management. "Wildfires would be smaller in scale if you could detect them before they got too big, like less than an acre."
Stephens, physicist Carl Pennypacker, remote sensing expert Maggi Kelly and their colleagues describe the satellite in an article published online Oct. 17 by the journal Remote Sensing.
"With a satellite like this, we will have a good chance of seeing something from orbit before it becomes an Oakland fire," said Pennypacker, a research associate at UC Berkeley's Space Sciences Laboratory and scientist at Lawrence Berkeley National Laboratory, referring to the devastating 1991 fire that destroyed more than 3,000 homes in Berkeley and Oakland. "It could pay for itself in one firefighting season."
With global warming, Stephens said, wildfires are expected to become more frequent and more extensive. This year alone, California's firefighting arm, CAL FIRE, has responded to over 6,000 wildfires, 1,600 more than average, according to tweets by the department's information officer Daniel Berlant. Wildfire-prone areas stretching from Spain to Russia could also benefit from their own dedicated satellites.
Updating an outmoded system

Fire detection today is much like it was 200 years ago, Stephens said, relying primarily on spotters in fire towers or on the ground and on reports from members of the public. This information is augmented by aerial reconnaissance and lightning detectors that steer firefighters to ground strikes, which are one of the most common wildfire sparks.
Infrared images of the area around Yosemite National Park on Aug. 17, 2013, before and 10 minutes after ignition of the Rim Fire. The images, taken by the GOES weather satellite, show that fire hotspots can be detected from space. GOES is a powerful, all-purpose satellite, and was not exclusively designed for fire detections , unlike the proposed FUEGO geosynchronous satellite, which could scan areas every few minutes. Images by Chris Schmidt, Univ. of Wisconsin.
"Even today, most fires are detected, in some way or another, by people," he said. "Even the Rim Fire near Yosemite National Park this past summer was detected by someone who saw a smoke column."
But satellite technology, remote sensing and computing have advanced to the stage where it's now possible to orbit a geostationary satellite that can reliably distinguish small, but spreading, wildfires with few false alarms. Pennypacker estimates that the satellite, which could be built and operated by the federal government, like the Geostationary Operational Environmental Satellite (GOES); as a partnership between government and the private sector, like the Landsat satellite program; or by a private company alone, would cost several hundred million dollars – a fraction of the nation's $2.5 billion yearly firefighting budget.
The idea of a fire detection satellite has been floated before, but until recently, detectors have been prohibitively expensive, and the difficulty of discriminating a small burning area from other bright hotspots, such as sunlight glinting off a mirror or windshield, made the likelihood of false alarms high. Today, computers are faster, detectors cheaper and more sensitive, and analysis software far more advanced, making false alarms much less likely, according to researchers.
"Simply put, we believe we have shown that this kind of rapid, sensitive fire detection of areas bigger than 10 feet on a side is probably feasible from space, and we have evidence that the false alarm rate will not be crazy," said Pennypacker, who has designed sensitive satellite-borne detectors for 40 years. "Our work requires further testing, which we are eager to do."
The approach is similar to what Pennypacker and colleague Saul Perlmutter used 20 years ago to search for exploding stars to study the expansion of the universe. In that case, they created an automated system to compare consecutive images of the night sky to look for new points of light that could be supernovas. Perlmutter, UC Berkeley professor of physics, shared the 2010 Nobel Prize in Physics for this work, which proved that the expansion of the universe is accelerating.
How it works

"In concept, this is a simple system: a telephoto camera, an infrared filter and a recording device. We are just looking for something bright compared to the surroundings or changing over time," Kelly said. "Then, we do these rapid calculations to determine if one image is different from the next."
Pennypacker and graduate student Marek K. Jakubowski developed a computer analysis technique, or algorithm, to detect these differences in space and time and to distinguish them from bright lights that might look like fires. This involves several billion calculations per second on images taken every few seconds, covering the entire West every few minutes. The new paper reports on tests of this algorithm using existing imagery from real fires, but the team hopes to get funding to test the system on a fire that is starting, such as a prescribed burn.
Images taken in two different infrared wavelengths reveal different details of a smokey fire, demonstrating that a fire-spotting satellite could see ignition sites obscured by smoke. These images are of a 2003 fire in the San Bernardino National Forest near Los Angeles, taken by the ASTER satellite.
"The point is, satellites like Landsat and GOES provide great information after a fire starts; they can focus and monitor a fire by looking at smoke plumes, fire spread, hot spots at the edges, etc.," Kelly said. "FUEGO is designed for early detection of smaller fires. Right now, we lose a lot of time because fires are already big by the time we see them."
The FUEGO design, for which UC Berkeley has filed a patent, was developed with funds from the Office of the Vice Chancellor for Research.
Other authors of the paper are Michael Lampton, a research physicist at the Space Sciences Laboratory; Robert Tripp, UC Berkeley professor emeritus of physics; and Christopher Schmidt of the Cooperative Institute for Meteorological Satellite Studies at the University of Wisconsin, Madison. Pennypacker, Lampton and Tripp are also members of the Physics Division of Lawrence Berkeley National Laboratory.
RELATED INFORMATION

/span>
Here is the weekly news affecting forests in California from Greg Giuisti:
Looking out for Lake Tahoe: new accord stirs debate, Alex Matthews
Capitol Weekly, 09/25/13
In 2011, fueled by pro-development and business interests, the state of Nevada passed legislation intended aimed at ending what many saw as a blissful, decades -old union with California — the Tahoe Regional Planning Agency. Nevada wanted to get out of the historic compact governing the protection of the majestic lake along the borders of both states. But environmentalists were not quite ready to let go of such a crucial regulatory tool......
Agency fails to do its job, many employees say, Greenwire, September 25, 2013, (subscription required)
Nearly half the workers at the Forest Service don't think their agency is doing its job. According to a survey released today by the government watchdog group Public Employees for Environmental Responsibility, just 55 percent of agency employees said the Forest Service is accomplishing its mission. The report, dated March 28, was produced by the consulting firm CI International.....
Air Quality: Let's not forget there's a forest through those trees
By Senator Tom Berryhill, Sonora Union Democrat, September 19th
California's wildfire season is only half over and the communities surrounding the Rim Fire in and around Yosemite National Park are still regrouping as firefighters continue working to contain one of the worst wildfires in California's history. Extreme drought conditions, over 100 years of fire suppression policies and minimal management of forestland have turned the Sierra into a tinderbox......
Logging bill reaches governor, without Santa Cruz in it, Jason Hoppin, Santa Cruz Sentinel, Sept 23, 2013
DAVENPORT -- A logging bill that ran into a buzz saw of local controversy has landed on Gov. Jerry Brown's desk, who -- after the Santa Cruz Mountains were carved out of the bill -- he is expected to sign it. The bill, AB 904, allows all but large landowners to pursue timber plans in perpetuity, as long as they comply with stricter environmental standards than those required of routine harvests. But the bill alarmed some local environmentalists, who worried about the removal of barriers to unwanted logging......
Special rules on logging, Santa Cruz Sentinel, 09/24/2013
Apparently, Santa Cruz County is a special interest. What else can one make of the end around state legislators have given environmental interests here who sought an exemption to a new law giving a break for small landowners who want to allow timber harvesting on their properties. The logging bill, AB 904, allows smaller landowners, up to 15,000 acres, to pursue timber plans in perpetuity as long as they comply with stricter environmental standards......
House passes McClintock timber bill, Alex MacLean, Sonora Union Democrat, September 24, 2013
The U.S. House of Representatives passed a forestry bill on Friday that includes an amendment by Congressman Tom McClintock intended to expedite the salvage of timber burned in the Rim Fire. The bill, HR 1526, also known as the Restoring Healthy Forests for Healthy Communities Act, was approved 244-173. House Democrats largely opposed the measure, with 172 voting against and only 17 in favor.....
Survey reveals Americans' overwhelming support for our National Forests, FOREST BUSINESS NETWORK, SEPT 23, 2013
The National Forest Foundation (NFF) announced today results of a new nation wide survey of voters revealing strong personal connections many Americans have with the National Forests and the benefits these lands provide. These connections are so strong that four in five voters polled said despite federal budget problems, funding to safeguard National Forests should not be cut. .....
Rim fire's effects likely to last for decades to come: Ecologists say forests in huge swaths of the Stanislaus National Forest could take 30 to 50 years to reestablish themselves, Bettina Boxall Los Angeles Times, September 23, 2013
TUOLUMNE, Calif. — Tourists stopped at the Rim of the World overlook on California 120 earlier this month to take photos of the panoramic view — just as they always have. But they stared in silence at the ashen hues of a landscape swept by the largest wildfire to burn in the Sierra Nevada in more than a century of recordkeeping. Steep canyon walls and mountain slopes that had been robed in chaparral and oak were now draped in black, spreading to the horizon in a funereal scene.......
The multi-million dollar question: Is forest certification working?, Center for International Forestry Research, Thomas Hubert, Thompson Reuters Foundation, Sept 20, 2013
Forest certification is considered a promising tool to improve forest management, but there needs to be a robust evaluation of a complex web of factors to establish its true value for various stakeholders, according to a new analysis.
Certification is a market-based scheme under which companies or communities managing forests voluntarily submit to audits by independent inspectors. If they meet responsible forest management criteria, their timber products can then carry a recognized branding such as that of the leading certification scheme, the Forest Stewardship Council (FSC)......
Experimental forests planted to try to lessen toll from wildfires, NBC News, Sep. 18, 2013
Experimental forests that have been groomed to slow wildfires could reduce the frequency of catastrophic fires in the future, researchers say. The decade-long project to slow and contain forest fires could become a blueprint for fire management across California. The project, which was developed in an experimental forest at the University of California at Berkeley's Sagehen Creek Field Station near Lake Tahoe in California, creates pockets of thinner trees in areas where the fire risk is high, while still leaving pockets of dense growth for wildlife habitat......
Here's the weekly news update from Greg Giuisti:
Coalition deal preserves panorama of High Sierra, Peter Fimrite, San Francisco Chronicle, September 5, 2013
A development war that has raged for more than a decade ended Tuesday when an agreement was reached to preserve forever a sweeping panorama of Sierra forest, pristine meadow and a long-coveted mountaintop overlooking Lake Tahoe. The decision by a coalition of conservationists, land owners and developers will protect 6,376 acres of land sloping up from the Martis Valley to Brockway Summit, near the Northstar atTahoe Resort, creating a huge corridor of protected High Sierra wilderness......
Subpoenas Issued for Documents on the Obama Admin's Retroactive Cuts to Secure Rural School Payments, House Committee on Natural Resources, September 4, 2013
House Natural Resources Committee Chairman Doc Hastings (WA-04) today issued subpoenas to the U.S. Department of Agriculture (USDA) and Office of Management and Budget (OMB) for documents they have failed to produce as part of the Committee's oversight into the Obama Administration's decision to retroactively subject 2012 Secure Rural School (SRS) payments to the fiscal year 2013 sequester......
Fire in Yosemite offers forest management lessons, Peter Fimrite, San Francisco Chronicle, September 3, 2013
Stanislaus National Forest, -- Tuolumne County - The danger of catastrophic fire was already clear to Scott Stephens when flames erupted almost on cue and chased his team of UC Berkeley researchers out of the Stanislaus National Forest. The enormous Rim Fire, which started on Aug. 17 and has now blackened 343 square miles of forest in and around Yosemite National Park, was almost licking at his heels. "I was thinking before the fire that if we ever get a fire in here, most of the old trees will be killed," said Stephens, the university's chief fire science expert. "I think that has happened."....
Failure to thin brush may have worsened California wildfire, By Jonathan Kaminsky, Reuters, Sun, Sep 1 2013
A cluster of controlled fire and tree-thinning projects approved by forestry officials but never funded might have slowed the progress of the massive Rim Fire in California, a wide range of critics said this weekend. The massive blaze at the edge of Yosemite National Park in the Sierra Nevada mountains has scorched an area larger than many U.S. cities - with some of that land in the very location pinpointed by the U.S. Forest service for eight projects aimed at clearing and burning brush and small trees that help fuel wildfire......
Let it burn? Yosemite park officials won't say that, but it's policy. Unless a naturally occurring fire threatens lives or structures, Yosemite and other national parks are likely to let nature run, its course. Julie Cart, Los Angeles Times, August 29, 2013
GROVELAND, Calif. — As the massive Rim fire roared out of the Stanislaus National Forest and deeper into Yosemite National Park this week, public attention rose sharply. But the intensity of firefighting did not. That's because part of the blaze had crossed into the jurisdiction of the National Park Service, which has a more restrained approach to managing wildfires than other federal, state and local fire agencies battling the 300-square-mile blaze. Officials estimate that it will be fully contained in two or three weeks, but it is expected to keep smoldering for weeks longer and won't be truly out for months......
Strengthen our forests - thin the trees, David A. Bischel, San Francisco Chronicle, August 29, 2013
The Rim Fire is one of the largest fires in recent California history. It highlights how every Californian has a stake in our forests, no matter how far away you are from the flames. Thousands of firefighters are working to attack the fire before it
destroys the watersheds of Hetch Hetchy Reservoir - the water supply for millions in the Bay Area. Many of our forests are overgrown because of more than a century of fire suppression and lack of forest management. Dense and unhealthy forests make fires burn hotter and faster. They then become too dangerous to attack on the ground, limiting the ability of our firefighters to contain the fire quickly......
State audit hits Cal Fire hidden funds, John Ortiz, Sacramento Bee, AUG. 30, 2013
For years, California Department of Forestry and Fire Protection officials collected nearly $100 million from legal settlements, but didn't track all spending and socked some of it away in an off-the-books training fund, according to a state
audit released Wednesday. Department of Finance auditors concluded that Cal Fire didn't have the authority to create the Wildland Fire Investigation
Training and Equipment Fund in 2005. They also found the Cal Fire Civil Cost Recovery Program, which billed and sued responsible parties for firefighting costs to the tune of $93 million over eight years, cannot accurately account for the
number of cases it's handling or civil liability payments being pursued......
Vilsack defends national forest management amid wildfires, By Tim Hearden
Capital Press, Aug 29, 2013
SACRAMENTO — U.S. Agriculture Secretary Tom Vilsack largely defended the federal government's management of national forests amid criticisms that massive buildups of hazardous fuels have added to wildfires' intensity. Vilsack said there's "no question there's been more intense fires," but the total number of fires this summer is down a bit from a normal year. He said his agency is committed to efforts like the Collaborative Forest Landscape Restoration Program, a series of conservation projects on federal lands.....
Cap-and-trade cost increases on hold, By Shelly Sullivan Capitol Weekly | 08/29/13

Many large employers in California were scheduled for massive greenhouse gas (GHG) "cap-and-trade" cost increases starting in 2015. Now state regulators propose to delay any increase until 2018 at the earliest. This is good news for
manufacturers and thousands of California workers with high wage manufacturing jobs. Food processors, consumer products firms, aerospace, chemical and oil refiners, and others will be able to efficiently operate in the state without being forced to buy millions of dollars worth of greenhouse gas permits at a state-sponsored auction......