ANR Green Blog
Since the inception of the California Naturalist program in 2012, we have been committed to embracing inclusion in all its forms and creating an open, diverse, and equitable community. It is embedded in our mission to foster a diverse community of naturalists and promote stewardship of California's natural resources through education and service. With 10 bioregions and over 39 million people, California is a diverse state naturally and culturally, and we are striving to provide greater access for underserved populations to this new statewide education and service program.
There are several ways in which we're addressing this critical work. One approach is identifying gaps in who we're reaching so we can prioritize filling those gaps. Using GIS to integrate environment, health and socioeconomic data from Cal Enviroscreen, the program prioritizes gaps in our geographic coverage and areas with the most disadvantaged communities.
To reach these communities we are working to expand partnerships with community colleges and organizations offering workforce development. California Naturalist certification can be integrated into a college course and to engage students embarking on their careers or those learning new skills for a change in career or work. For example, Pasadena City College offers certification as a part of their field biology class. Students gain valuable hands-on experiences, build their resume, and make connections to the wider naturalist community.
We also work with institutions that focus on training young underserved adults. For instance, Mountains Recreation and Conservation Authority (MRCA) in Greater Los Angeles incorporated California Naturalist into "Bridge to Park Careers," a competitive 20-week training program that equipped young adults from urban areas with knowledge and multiple certifications needed to secure jobs as educators and naturalists with park agencies. We maintain this program partnership with nonprofit Community Nature Connection, who continues the educational programming previously conducted under MRCA.
Finally, scholarships are available in many locations to cover program fees for participants. To further increase scholarship opportunities, we are excited to announce our newest initiative, the California Naturalist Scholarship Fund. The fund will help break down barriers people face in accessing the program, off-set course participation costs, and ultimately build a more inclusive community of naturalists. In 2016, 29 percent of California Naturalist course participants and 21 percent of statewide conference attendees received a need-based scholarship to attend courses and training events.
2018 holds much promise for strengthening our commitment to inclusion. As we enter the holiday season and prepare for the new year, please consider giving the gift of knowledge and the spark of curiosity. Together we can help protect and preserve nature by engaging more Californians in stewardship, discovery, and action.
On the fifth anniversary of the United Nations' recognition of Dec. 5 as World Soils Day and just in time for the California Department of Food and Agriculture's awarding of $5.23 million in funding to promote the adoption of soil health conservation practices, the California's Healthy Soil Initiative celebrated its first ever California Healthy Soils Week.
For most, that might not sound like a holiday worthy of week-long festivities (a celebration style often reserved for birthdays), but to the passionate folks who've spent the last three years building the nation's leading climate-smart agricultural program, it marks the beginning of a new story of how California agriculture can contribute to feeding the world, saving water and cleaning our air, all while fighting climate change and buffering against its negative effects.
As the inaugural year's theme "Healthy Soils = Healthy Lives" implies, soil health and human health are one and the same. So, in an effort to educate Californians on how vital soil truly is, the week focused on "highlight[ing] all the remarkable gifts healthy soils have to offer," as CDFA Secretary Karen Ross commented.
From Dec. 4 to 7, CDFA, in partnership with a broad swath of stakeholder groups ranging from state organizations to the private sector (Fibershed, including Community Alliance with Family Farmers, California Farm Bureau, CalCAN, CA Resource Conservation Districts, Roots of Change, and Fibershed, hosted a variety of panels, webinars, and tours to better demonstrate what soil health actually is, what it looks like, how to promote it, as well as barriers to adoption and on-farm challenges.
CDFA kicked off the week by unveiling a series of Healthy Soils Information Panels directly outside Governor Jerry Brown's office. The information panels included an Natural Resources Conservation Service-inspired infographic defining healthy soils as a dynamic interface of the four elements, containing approximately 45 percent minerals, 5 percent organics, 25 percent air, and 25 percent water and teeming with life on the order of 100 million to 1 billion individual bacteria per teaspoon. The next few banners featured the major benefits of healthy soils. Quite simply: More food. Less water-use. Cleaner air. Healthier planet. The last banner brings it all home with a case-study of all-star farmer, Jesse Sanchez, once honored in Washington, DC as a "Champion of Change."
Dec. 5 – the official World Soils Day – was jam packed, starting with a 9 a.m. webcast on Climate Smart Agriculture, followed by a legislative staff briefing led by CDFA Deputy Secretary Jenny Lester Moffitt, and a reception to celebrate the connection between soil and food by indulging in the fruits of California agriculture. The briefing included two discussion panels -- one that featured scientists including UC Cooperative Extension advisors Daniel Munk and Glenn McGourty, East Stanislaus Regional Conservation District agent Jeff Borum and Margaret Smither-Kopperl of the USDA-NRCS Plant Materials Center, and one that featured pioneering farmers, Rory Crowley of Niclaus Nut Company, Michael Crowell of Bar-Vee Dairy, and Bruce Rominger of Rominger Brother's Farms. The growers discussed the benefits and challenges of no-till farming, or conservation agriculture, on their own farms.
The next day turned a bit more hands-on, with California EPA and CalRecycle helping deliver bags of compost, along with educational materials to legislative offices and with tours taking legislators out into the field -- first to the Recology compost facility, and then to Sierra Orchards where some of that compost ends up.
Capping it all off, Southern California got looped into the festivities with a tour of the Urban Farm in Los Angeles and keeping in the urban food systems theme, Sacramento Food Policy Group and ReSoil Sac hosted one last panel and reception at Hot Italian, a local restaurant that sources seasonally fresh, California-grown ingredients and is committed to improving communities and the environment. And it's not just talk, these guys walk the walk with a worm-bin on site to help process their waste into a valuable resource for local growers.
Throughout the week, the message was clear: the California Healthy Soils Initiative is here to stay. And while it might take an internationally recognized holiday or a statewide weekly celebration to remind us, soils are the foundation of life, of agriculture, and their health is inextricably linked to that of our own. As Rory Crowley of Niclaus Nut company reminded us, "Every day is World Soil Day on the farm."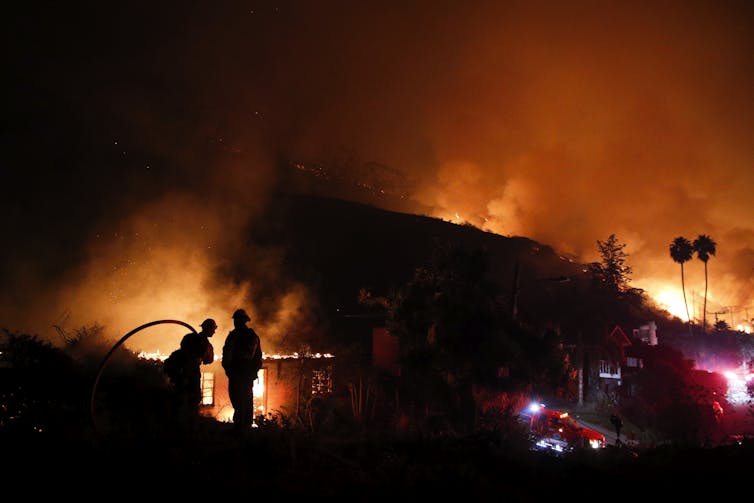 Faith Kearns, University of California, Division of Agriculture and Natural Resources
In the midst of the many wildfire emergencies that have faced California this year, it can often seem that the way houses burn, or don't, is random.
The thing is, though, it's not. Firefighters and researchers alike have a pretty solid understanding of why some houses are more vulnerable to wildfire than others. The real challenge ultimately lies in whether those with the power to act on that knowledge will do so.
Available science
It is commonly thought that it takes direct flame to spread a fire, but this isn't always the case. Small embers are instead often the culprits that begin house fires during wildfires. These small bits of burning debris can be lofted long distances by the wind. They can then end up igniting landscaping materials like combustible mulch, or enter homes through vulnerable spots – gutters teeming with debris, unscreened attic vents, open or broken windows, old roofs with missing shingles. Once there, the embers smolder and can ultimately catch a house on fire.
In California, iconic winds work to create ideal ember-driven ignition conditions. The Santa Ana winds in Southern California – known as the Diablo winds in northern part of the state – have generally followed fairly predictable seasonal and spatial patterns. "Red flag" fire warnings are often issued on dry days when the winds will be particularly fierce.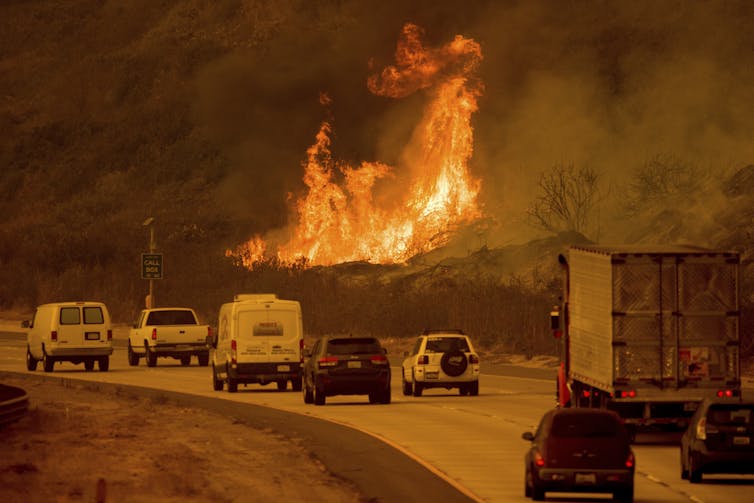 While humans can't really control as much as we'd like to believe when it comes to disasters, we do have the ability to control where and how we build. For decades, most wildfire education and enforcement campaigns have focused on creating so-called defensible space where landscaping vegetation is carefully selected and located on the property, as well as routinely maintained.
This is not enough, however. Officials in California – as in other fire-prone states – need to help homeowners, local governments and builders to understand there are also specific, science-based steps that can be taken to make structures themselves less vulnerable to fire.
Researchers recommend what is known as a "coupled approach" to home and building survival. This means the development and maintenance of an effective defensible space, as well as the careful selection of construction materials and correct installation to ensure that, for example, there are not gaps in siding or roofing that would allow embers to penetrate.
Decision-makers also need to be willing to take on the most taboo topic of them all: recognizing that there are places houses simply shouldn't be built, or rebuilt, at all.
(Not) too urban to burn
Earlier this year, California had the first strong winter rains after many years of drought. Now, after a typically dry summer, the state is experiencing a dry start to the rainy season, particularly in the south. At the same time, people have continued to build into places known to burn regularly. The result of this confluence of events has been fires deeply affecting many thousands of people up and down the state.
California residents are largely aware that not all fire is bad, and that many of our ecosystems thrive on regular fire. It's not something that we should, or ever could, hope to fully contain. Our only chance is learning, really and truly and finally learning, to live with it.
In that vein, the state must look long and hard at some of the steps that have been the hardest to take – not building in places that are particularly fire-prone and matching building codes with a modern understanding of wildfire risk – if there is to be any hope of alleviating the human suffering these fires cause.
We are being invited to free ourselves from the notion that wildfire destruction is random and unpredictable, and that therefore there is nothing to be done about it. As the fire season in California gets longer, the winds worsen and wildfires move into areas once deemed too urbanized to burn, maybe the knowledge about what makes houses burn can finally be put to good use.
Faith Kearns, Academic Coordinator, California Institute for Water Resources, University of California, Division of Agriculture and Natural Resources
This article was originally published on The Conversation. Read the original article.

/h2>/h2>/span>/span>
UC Cooperative Extension researchers convey need for more climate change communication and curriculum tools
Reducing greenhouse gas emissions from natural and working lands is one of California's key climate change strategies. In particular, the potential for farm and rangeland soils to serve as carbon sinks has been getting a lot of attention lately in the national media — and during California Healthy Soils week, which wrapped up Dec. 7.
These are areas where UC Cooperative Extension, with its local presence across the state, is well-positioned to drive change. But as a recent survey of UCCE advisors, specialists and faculty found, while there is a good deal of climate work happening, there are also some significant obstacles.
The survey results — reported in an article by UCCE academics Ted Grantham, Faith Kearns, Susie Kocher, Leslie Roche and Tapan Pathak in the latest issue of California Agriculture — showed that while nearly 90 percent of respondents believe it is important to incorporate climate science into extension programming, only 43 percent currently do so.
Respondents pointed to a number of issues. One was "limited familiarity with climate science fundamentals." It's one thing to cite the overwhelming scientific consensus that climate change is real and is being driven largely by human activity; it is another to be able to respond quickly and convincingly to detailed questions from doubters. This list from Grist, for instance, details more than 100 common arguments raised by climate skeptics, many of which have non-trivially complex answers.
Another important issue cited by respondents was "fear of alienating clientele by talking about a contentious topic," a response that highlights the importance of personal relationships in UCCE's work, and the challenge of communicating an area of science that is highly politicized.
The authors conclude: "To further increase the capacity of UC ANR staff to support the needs of their clientele and the broader public, professional development around climate science fundamentals, communication, and adaptation strategies is critical." As an initial follow-up, the UCANR climate change program team (led by authors Grantham, Kocher and Pathak) is presenting a workshop and professional development meeting for extension professionals in February.
For more from California Agriculture, the research journal of UCANR, see the full issue with articles on mapping soil salinity in the San Joaquin Valley via satellite; choosing forage seed mixes for rangeland restoration; growing oilseeds in winter without irrigation; keeping dairy cows cool in the summer; breeding better carrots; and more.
Most California forests have too many trees, so carefully selecting pines, cedars or firs in natural areas to enjoy for the Christmas season is good for the mountain landscape.
"It's a great idea to cut down young trees for fire safety and vegetation management," said Susie Kocher, UC Cooperative Extension forestryadvisor in the Central Sierra. "The earlier you do it, the less work it is to manage the trees in the long run."
Kocher lives and works in Lake Tahoe. Every year, she gathers her family and friends to find forest-fresh Christmas trees in the Lake Tahoe Management Area. Of the 18 national forests in California, 11 allow Christmas tree cutting with the purchase of a $10 permit. (See the list below.) People who own mountain cabins or other forestland may invite family and friends to help thin trees on their personal property, which can then be used for the holiday season. However, never harvest trees on public or private property without permission.
"We have a lot of small trees on public and private forest lands because of fire suppression," Kocher said. "They're all competing with one another and many will ultimately die. A smart harvest of Christmas trees can improve the forest by helping with thinning."
People with permits to cut down Christmas trees in national forests must follow strict guidelines. Follow the same guidelines on private land to ensure a smart harvest. Before chopping down the tree, be sure it is within 10 feet of another living tree, the trunk is no more than 6 inches in diameter and the stump left behind is no higher than 6 inches off the ground. Some national forests limit the harvest to certain tree species.
Despite committing to these guidelines when obtaining a permit, Kocher said she has seen some Christmas tree harvesters make ill-advised choices.
"Some people are too lazy to find a good tree and will cut the top off a large tree," Kocher said. "You can be driving around and see what looks like a poor old Dr. Suess tree, which is what grows from the ugly remnant left behind in the forest."
Such irresponsible Christmas tree cutting has led some forests to discontinue Christmas tree harvesting for personal use.
There has been ongoing debate about whether a fake tree or real tree is more environmentally friendly, but for Kocher, there is no question.
"Fresh real trees are a renewable resource, fake trees are not," she said. "It's an agricultural product. You can contribute to a local farmers' income or you can help thin the forest. Picking and bringing home a fresh tree, decorating it and smelling it defines the season for me. Without it, I don't think it would feel like Christmas."
U.S. National Forests in California that allow Christmas tree cutting with a permit are:
Read more:
Purchasing real Christmas trees from tree lots in town or at choose-and-cut tree farms is a way to support farms and economies in rural areas and contribute to environmental sustainability.