Supplemental Resources
Teaching With i-Tree
A free, state of the art online tool developed by the US Forest Service and its partners. Teaching with i-Tree provides a structured alignment to national academic standards for both the Next Generation Science Standards and the Common Core State Standards for English and Language Arts. These lessons include video tutorials, lesson plans, student worksheets, and i-Tree Design software. Download Here
Green Jobs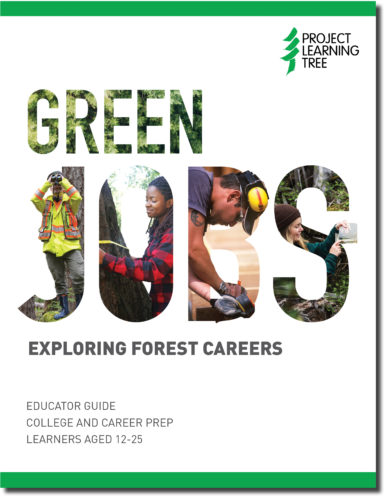 Green jobs represent one of the fastest growing and changing segments of the global economy. At the same time, today's youth are seeking rewarding careers what help us move towards more sustainable lifestyles and greener economies. The next generation wants to work with purpose. They want to find a job they can be proud of; they want to feel like they are making a difference in the world. Use this resource with youth ages 12-25 in settings ranging from community youth programs and school classrooms, to college and career prep, to field trips and forest tours.
Additional EE Resources
Connecting Kids to Nature activities
that you can use with your families. These fun, one-page activities, adapted from PLT's early childhood and preK-8 education materials, to connect the children in your lives with the natural world.
The Lorax Activity Booklet
is a fun way to teach about the inherent value of forests and the importance of sustainable forest management. Watch the movie or read the book then use these engaging activities, adapted from
PLT's PreK-8 Environmental Education Activity Guide.
Walk in the Forest: A Guide for Promoting Forests and Forest Management
is a wonderful resource for leading hands-on forest and forestry experiences. This guide will help you plan a "Walk in the Forest" event for adults, families, students, or teachers.
Find Your Green Jobs

This quiz is a digital adaptation of the "Your Personality and Green Jobs" worksheet from Activity #1 in PLT's Green Jobs: Exploring Forest Careers guide. By answering a few questions youth receive recommendations for green careers that may suit their personality. Take advantage of a one-time free trial here!
The Green Jobs: Exploring Forest Careers units includes four hands-on, Next Generation Science Standards (NGSS) aligned instructional activities to help youth research forestry jobs and practice managing & monitoring forest resources. It is designed for educators, career and guidance counselors, Scouts, 4-H and FFA leaders, foresters and job training advisers to use with learners aged 12-25.