Forest Research and Outreach
Written by University of California Cooperative Extension Forestry
Author: UC Berkeley Public Affairs
Published on: June 8, 2020
Reposted from the UC Berkeley College of Natural Resources News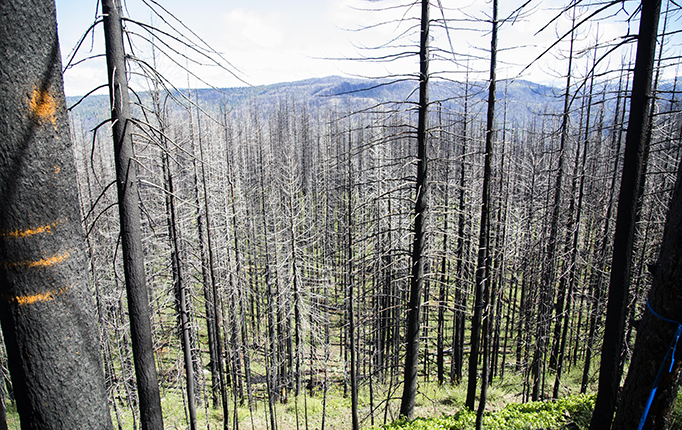 Fire has been a central component in California's natural and human history for millennia. Native Americans' use of cultural burns in landscape management, in addition to lightning-ignited fires that burned unhindered, have long impacted most of the state's ecosystems. However in the late 1800s, California's landscape underwent an era of Euro-American fire exclusion and suppression. As the United States began suppressing fire across western ecosystems, forests became increasingly dense with fuel which easily ignites in warm weather conditions.
In a study published in Frontiers in Ecology and the Environment today, environmental science, policy, and management professor Scott Stephens and co-authors investigate the role which fire and restoration thinning could play in restoring California's forests. Stephens argues that allowing forests to burn does not necessarily conflict with the government's environmental objectives to promote carbon storage and water availability. In the long-term, fire and restoration thinning can help forests continue to provide natural services while building ecosystem resilience to climate change.
A century of fire suppression coincided with the loss of larger, more fire-resistant trees from selective logging. With the worsening impacts of climate change, wildfires have grown increasingly destructive and high-intensity in recent years, and megafires threaten the biodiversity of many native ecosystems.
Stephens argues for the return of fire in California's forest management techniques. "With climate change and continued ignitions from people and lightning, there is a great need to move decisively," says Stephens. "The good news is rather than conflicting with other environmental objectives, fire and restoration thinning employed now will provide numerous co-benefits."
The authors focus on two primary management strategies: burning and restoration thinning. Fire treatments include prescribed fires, in which managers intentionally burn an area in accordance with a site-specific plan. Prescribed burns reduce dead wood, leaf litter, and small trees, which act as hazardous fuel layers in seasonally dry forests. Additionally, forest managers can monitor wildfires that are ignited naturally by lightning and, where appropriate, allow such ignitions to burn—a technique that has improved the ecological resilience of several National Parks and forests in much of the United States.
Restoration thinning—activities such as chipping, shredding, and whole-tree removal—can reduce fuel and mimic the effects of burning. However, mechanical thinning practices do not aid the many native species which rely on smoke and heat to germinate or on burnt habitat to thrive.
Importantly, the study describes how such management strategies can improve overall biodiversity, water quantity, and carbon sinks. Pyrodiversity, or the degree of heterogeneity in the age and size of a burned landscape, can support more diverse bird, pollinator, and flowering plant communities. The authors describe the challenge in maintaining complex tree canopy structures for threatened species, such as the California spotted owl. In addition to increasing streamflow and enhancing long-term carbon sequestration, the proposed management strategies could lower the likelihood of high-severity fires in the future.
"Even though increasing the scale of restoration is daunting, I am optimistic," says Stephens. "Forests are just too important to the people and wildlife of California. But we need to act or severe wildfires and drought will continue to change forests right in front of us. We can and need to do better."
Management strategies would need to account for the difficulty in controlling hazards from smoke, as well as how volatile weather conditions can cause undesired fire outcomes. To ensure the safety of the forest and nearby communities, the study finds that prescribed burn plans must integrate information on weather, topography, fuel type, ignition patterns, and other factors. The authors call for increased collaboration between Native American tribes and forest managers, highlighting the importance of longstanding indigenous knowledge and practices.
Now the COVID-19 pandemic is expected to impact fire suppression, an activity that necessarily involves groups working in close proximity. "Firefighters train, sleep, shower, eat, and fight fire in groups, and the effectiveness of firefighters depends on the ability to deploy and work closely to extinguish fires," says Stephens. "New protocols are being developed for this summer and fall that will work to make groups smaller and to increase fire prevention. While these measures are needed this year, they do not address the fundamental fire problems in California forests that are addressed in this paper."
The study was conducted in collaboration with researchers from the University of California, Merced, the University of New Mexico, the University of Wisconsin, Madison, Colorado State University, and the University of Western Australia. Read the full paper in Frontiers in Ecology and the Environment website.
---
Author: Gabrielle Boisramé
Published on: December 6, 2017
Reposted from the California Water Blog
Now that summer is over and rain has returned to California, it appears that the dramatic 2017 fire season is finally behind us. The effects of fire season can linger, however, with the possibilities of erosion and polluted runoff from burned areas. Napa County has even issued suggestions for how to protect waterways in burned landscapes.
Not all news is bad when it comes to the interactions between fire and water, however. These two seemingly opposite elements can actually work in tandem under the right circumstances, to the benefit of people as well as the environment.
While the North Bay fires were filling the headlines in October, another fire 200 miles away was quietly entering its third month of burning in the Sierra Nevada wilderness. This other fire, known as the Empire Fire, was ignited by lightning. By allowing this fire to slowly burn, the park service allowed natural processes to remove fuels that could otherwise build up and lead to more dangerous fires in the future.
The Empire fire burned through an area in Yosemite where fires have been allowed to burn for over 40 years, the longest period managed with such a strategy anywhere in California. Research in Yosemite and other areas shows that allowing these wilderness fires to burn can increase the amount of water stored in the soil or flowing downstream. In the winter, forest clearings opened up by fires often store deeper snow that melts later than in densely forested areas, meaning more water is released slowly in the spring and summer rather than all rushing out as floods in the winter.
Fires can also open up meadow areas that have been overgrown by forest. Although wet meadows cover only a small percentage of California's landscape, they provide important benefits to the water supply. Meadows reduce the size of floods by storing water during high runoff periods. They also help to store water for the dry summer months by holding that water like sponges and slowly releasing it.
The biggest news about fire and water, unfortunately, is usually about how burned landscapes contribute to erosion, which then pollutes streams and clogs reservoirs. When fires burn homes, pollution risks can be especially high due to the presence of hazardous chemicals. Fires can also lead to larger floods since there is less vegetation to slow water's path from rainfall to stream runoff.
These negative effects, however, usually happen because a large portion of a watershed has been completely stripped of vegetation, and plants have not been able to re-grow in time to stabilize the soil. These kinds of fires are usually caused by a combination of dense fuels and extreme weather. When fires burn under less extreme conditions (lower fuel loads, high humidity, low temperatures, and/or low wind speeds), they can clear out dead fuels and remove a small number of trees while leaving most large trees intact. After the fire, the remaining trees (as well as new growth of understory plants) often enjoy wetter soils and less competition. This increases the ability of plants to survive drought conditions.
Wildfire has always been a part of California – especially northern California and the Sierra Nevada – for as long as it has had lush vegetation and dry summers. Native Californian plants have adapted to this process. Some species, like redwoods, even depend on fire for regeneration. Native Californian people historically used fire as a tool to promote the growth of desired plants.
In the early 1900s, however, those in charge came to what seemed to be a very logical decision: to protect our homes and forests from fire, we should put out all fires as quickly as possible. Although this policy was initially very successful, a century later we have flammable forests with heavy fuel loads, as well as densely packed trees that send large amounts of water into the air through their leaves rather than allowing it to flow downstream or remain underground to be used during droughts.
Large public land managers such as the National Park Service and U.S. Forest Service have lately been shifting away from the strategy of suppressing every single fire. Instead, lightning-ignited fires that are burning under acceptable conditions (not too windy, not too close to infrastructure, etc.) are allowed to burn and perform their natural functions of clearing fuels and thinning forests to sustainable tree densities. Prescribed fires and mechanical thinning are also used in situations where greater control is required to reduce risk.
In this way, letting some fires burn today can prevent catastrophic fires from burning through dense fuel in the future. Preventing such catastrophic fires removes their threat to the water supply – as well as the potentially devastating human losses, as we saw from the Atlas, Tubbs, Nuns, and other fires this year. Increased streamflow, snowpack, and drought resistance in burned watersheds all add to this increased water security. The water benefits of more natural forests are receiving increased attention lately, with some companies even working to set up markets for downstream water users to pay for upstream forest care.
We cannot prevent all wildfires in California. However, by understanding their role in our natural systems and incorporating them into our land management, we can benefit from them.
Gabrielle Boisramé has a PhD in environmental engineering from U.C. Berkeley, where she studied the effects of wildfire on water balance in the Sierra Nevada with Prof. Sally Thompson. She continued this work as a post-doctoral scholar with Prof. Scott Stephens, also at U.C. Berkeley.
Further reading
Boisramé, Gabrielle, S. Thompson, B. Collins, and S. Stephens. "Managed wildfire effects on forest resilience and water in the Sierra Nevada."
Lundquist, J. D., S. E. Dickerson-Lange, J. A. Lutz, and N. C. Cristea. Lower forest density enhances snow retention in regions with warmer winters: A global framework developed from plot-scale observations and modeling.
Neary, D., K. C. Ryan, and L. F. DeBano. Wildland fire in ecosystems: Effects of fire on soil and water.
van Wagtendonk, J. W. The history and evolution of wildland fire use.
---
Viewing -2--1 of 2