UC Fire News
Reposted from the UC Berkeley News
As the dangers of climate change grow and global political tensions rise, the University of California, Berkeley, in partnership with former California Governor Edmund G. Brown Jr. and China's top climate change official Xie Zhenhua, with support from other University of California campuses, today launched a groundbreaking new initiative — the California-China Climate Institute — to spur further climate action through joint research, training and dialogue.
"The climate threat doesn't respect borders and it doesn't pause for politics. Now is the time for action from leaders everywhere — for humanity and our common future," said Jerry Brown, chair of the California-China Climate Institute, who was appointed a visiting professor at UC Berkeley in July. "With this Institute, California and China are pushing forward together."
Brown announced the new transpacific initiative with China's Special Representative for Climate Change Affairs Xie Zhenhua, who leads the Institute of Climate Change and Sustainable Development at Tsinghua University — one of China's preeminent research institutions — which will partner with the California-China Climate Institute.
"Climate change is a common threat faced by the human society. I deeply appreciate Governor Brown's great contribution and leadership to addressing climate change during his tenure as governor. I hope the Institute of Climate Change and Sustainable Development of Tsinghua University can continue deep collaboration with Governor Brown's team," said Xie Zhenhua.
The California-China Climate Institute is housed at UC Berkeley's School of Law and College of Natural Resources and will deploy the university's resources and expertise to advance research on low-carbon transportation and zero emission vehicles; carbon pricing; climate adaptation and resilience; sustainable land use and climate-smart agriculture; carbon capture and storage; and long-term climate goal-setting and policy enforcement.
"Berkeley is uniquely positioned to help these two world leaders address the pressing issue of climate change," said UC Berkeley Chancellor Carol Christ. "Our faculty and researchers each day take on the peril of our changing climate and seek to develop new technologies and policies that will reduce greenhouse gasses across continents. This institute will play a key role in spreading that work around the world."
Through this work, the California-China Climate Institute will identify and share best practices and key lessons; scale innovative climate solutions; and help inform top policy and decision makers in California and China — and beyond.
"UC Berkeley has played a key role in the development of climate solutions and partnering with the state to support California's emissions reductions goals," said David Ackerly, Dean of the College of Natural Resources. "We're excited to build on this experience and work with our colleagues in China to address the complex global challenges ahead."
"I am excited about this collaboration to tackle the world's most urgent problem, climate change. This working relationship between California and China taps the tremendous strength of UC Berkeley in the area of environmental protection in the Law School's Center for Law, Energy, & Environment and in the College of Natural Resources," said Berkeley Law Dean Erwin Chemerinsky. "My hope is that this unique endeavor will make a real difference."
The California-China Climate Institute's expansive research will be complemented by a high-level training program that will create new opportunities for dozens of Chinese and Californian researchers and scientists, technical experts and policymakers to learn from their counterparts — and advance critical policies and programs to curb carbon emissions.
This will be achieved through close collaboration between the California-China Climate Institute, the Institute of Climate Change and Sustainable Development at Tsinghua University, China's national and provincial governments and California's top government agencies including, the California Public Utilities Commission, California Natural Resources Agency, California Energy Commission, California Air Resources Board, California Independent System Operator, Air Quality Management Districts and others.
"Leading universities should play a leading role in tackling the global challenge of climate change. Tsinghua University has top talent in climate change and established the 'Global Alliance of Universities on Climate' together with 12 world-leading universities, including the University of California, Berkeley," said Tsinghua University president Yong Qiu. "We believe that by working together, we can make our due contribution to global climate governance."
Finally, the California-China Climate Institute will organize a series of subnational climate dialogues between top government, business and climate leaders from throughout the United States and China to foster understanding and collaboration with respect to climate policy, investment and finance. These efforts build on the first high-level United States-China subnational climate dialogue held during the Global Climate Action Summit last September in San Francisco hosted by the state of California and Chinese People's Association for Friendship with Foreign Countries.
The California-China Climate Institute will also receive support and guidance from other University of California campuses and institutions, including UCLA, UC Davis, Lawrence Berkeley National Laboratory and others.
Brown committed to establishing this institute after meeting with China's President Xi Jinping in Beijing and hosting a dialogue with Xie Zhenhua and more than two dozen Californian and Chinese policymakers, researchers and business leaders at Tsinghua University in 2017. This followed Brown's call for greater climate action and collaboration at Tsinghua University during an earlier trip to China as governor in 2013.
For additional information on the California-China Climate Institute, visit: https://ccci.berkeley.edu.
Reprinted from California Magazine
Vista View at North Sonoma Mountain Regional Park // Detail of photo courtesy of harminder dhesi / flickr
When the Tubbs and Nuns wildfires exploded across Sonoma County in 2017, firefighters found they lacked critical information. Details on the vegetation, structures, and roads distributed across the landscape would have helped them better evacuate residents and allocate fire suppression resources.
It was only after the fires were extinguished that authorities realized much of that data was available—in the form of "veg maps." Created by the Sonoma County Agricultural Preservation and Open Space District, Ag + Open Space as it's known locally, the maps deconstruct the terrain, depicting slope, aspect, soil type, hydrological qualities, buildings, roads and driveways—even the density of trees and brush—in exquisite detail.
Fine-scale vegetation map of Sonoma County // Image courtesy of Sonoma County Ag + Open Space
Such maps, officials realized, could be an immense asset when responding to wildfires. They could even serve a preventative purpose: helping "fireproof" undeveloped land by turning open space from a wildfire liability to a fire-prevention asset.
The maps are produced through LiDAR, or Light Detection and Ranging, which is kind of like radar, except it uses pulsed lasers emitted from aircraft or satellites instead of radio waves. The process yields precise 3-D maps of the earth's surface, detailing vegetation type and density. Researchers can look at a LiDAR map and evaluate "fuel ladders"—deadwood on the forest floor combined with the limbs and branches running from the ground to the tree tops—in any given stand of trees, down to resolutions of one centimeter.
"Using the maps for wildfire response wasn't our original intent," says Karen Gaffney, a UC Berkeley alumna and the conservation planning manager for Ag + Open Space. Originally part of a project supported by the Sonoma County Water Agency and grants from NASA, the maps were created for land and wildlife conservation purposes. "But it just so happens much of that data is proving valuable for disaster planning."
The maps are being used to flag the best fire evacuation routes and the sites most susceptible to contamination or erosion post-fire.
When it comes to wildfire, it's largely about fuel. While the forests of the West were once subject to regular low-intensity fires that produced large, well-spaced trees and light accumulations of deadwood, more than a century of overzealous wildfire suppression and rising temperatures from climate change have reversed this dynamic. Combine the current dense, thicket-like stands of trees and piles of dead branches with hot, dry autumn winds, and the result is wildfires of devastating ferocity—wildfires like the 2017 North Bay fires and the 2018 Camp Fire in the town of Paradise.
Like many areas, Sonoma County has been attempting to use "prescribed" fire and tree thinning to reduce fuel loads, says Gaffney. Shortly before the Nuns Fire ripped through Glen Ellen, an experimental prescribed burn conducted at a nearby ranch demonstrated the effectiveness of such efforts. The encroaching wildfire immolated nearby woodlands and structures, but dropped to low, flickering flames when it hit the prescribed burn zone. There simply wasn't the fuel to sustain it.
The message was clear to the county's disaster response planners: the more wildlands that can be burned under controlled conditions, the better.
The district's veg maps are now being used by county officials to identify candidate open spaces for thinning and prescribed fire, with prioritization going to the most vulnerable areas.
"In conjunction with our partners at Pepperwood Preserve and Tukman Geospatial, we've created fuel loading maps from our LiDAR data that identify areas where heavy ladder fuels are located close to structures," says Gaffney, who declined to comment on specific sites. "And because we can map development footprints down to resolutions of one centimeter, we can even identify risks for individual buildings."
Ladder fuels maps of Sonoma County // Image courtesy of Sonoma County Ag + Open Space
The maps are also being used to flag the best fire evacuation routes and the sites most susceptible to contamination or erosion post-fire.
"For example, we can determine if a [burned] structure that contained toxic materials is at significant risk of contaminating a nearby stream," Gaffney says. "While the maps first responders and firefighters typically use show all the major and secondary roads, our data let us create maps that show the much smaller routes that could also be used for evacuation."
The veg map approach to wildfire response and planning is gaining fans beyond the borders of Sonoma County.
"Marin County and San Mateo County have acquired LiDAR technology and are creating their own veg maps," says Allison Schichtel, the conservation GIS coordinator for Ag + Open Space, "and Monterey and Santa Cruz Counties are looking into it. I did a presentation at a forestry and GIS workshop, and there were folks from [far] northern California and southern Oregon who wanted to know all about it. Interest is growing—kind of like an amoeba."
Reposted from the UC Berkeley News
Eight months after the Camp Fire consumed the Northern California town of Paradise and was pronounced the deadliest wildfire in state history, California is facing the potential in the coming months for more death and destruction.
Scott Stephens, a UC Berkeley professor of fire science, says the heavy rains of February and March have left California grasslands with perhaps twice as much burnable fuel as this time a year ago.
"Most of the time, you'd have one ton of dry mass per acre, and right now it's about double that," Stephens, who has spent a quarter century in Berkeley working on fire behavior, fire ecology and forest policy, says. "I would expect grassland fires to be more intense and move around more quickly because of that.
"All that dry grassland will be responsive to sparks and flying burning embers. The fuel load will increase flame lengths. Once the grasslands start to burn, they could produce more embers themselves, since they have higher fuel loads."
Stephens says California could help itself greatly by following the Australian model of fire prevention, where there is regular governmental outreach to people who live in fire-prone areas.
That's one reason he's a keen booster for Senate Bill 462, which is currently under consideration in Sacramento. One segment of the bill calls for the development of a group of outreach advisors who could be in the field long before a firestorm, giving advice about fire issues to those most likely to need it.
"This is not an average year," he says. "The grasslands in some places are twice as tall as normal. That makes fire prevention more challenging, particularly at the urban wildland interface," where homes are built on or adjacent to fire-prone lands.
"In general," he adds, "the state has not done well to engage people and acquaint them with their vulnerabilities."
"The UC Extension programs across the state have been doing this kind of thing in agriculture for 50 years," Stephens says. "These are people who live in the counties most impacted and who can make a difference. We should be taking some inspiration from Australia and do the outreach about fire within communities and city councils."
Stephens has spoken several times in Sacramento on behalf of SB 462, calling it "a critical program for the state to move forward." The Camp Fire, and the Carr and the Tubbs fires that preceded it, may have gotten California out of a legislative quagmire concerning fire, although it's an open question whether or not the legislature will ever get a bill to Gov. Gavin Newsom's desk.
"In my two years doing this, I've never seen the state do what has been done the last two years," Stephens says. "Both the legislature and the governor are moving into fire areas, trying to understand things better. This bill came out of the education committee in the Senate and got the support of a lot of environmental committees."
As originally written, the bill's funding would have been $20 million. Once the bill arrived in the appropriations committee, however, that figure was reduced to $1 million, and the bill currently is awaiting consideration by the Assembly Natural Resources Committee.
Stephens says the funding cut would mean only two or three people could be hired to do the kind of outreach he envisions across the state. The original funding would have seen the hiring of perhaps 15.
Wildfire season in California has typically run from mid-summer through late autumn, although the last two seasons have stretched that. Stephens says getting ahead of the wildfire season would include, in addition to outreach, the passage of Senate Bill 462 and a concerted effort to mow or trim the dried grasslands.
"We need to see what is happening," Stephens says. "Right now, the people who are dying in these fires are the elderly, the vast majority of whom are over 65. These are people who are not as mobile and who don't have the same resources. They are the ones who need this outreach."
Reposted from the UC Berkeley News
UC Berkeley is globally famous for producing Nobel Prize-winning scientists, entrepreneurs, economists, artists and environmentalists. Now, a new group's got a spot — actually, a perch — on that list: peregrine falcons.
Falcons first hatched in a secluded nest atop the campus's 307-foot-tall Campanile in 2017, but not until Sean Peterson, a Berkeley Ph.D. student, and Lynn Schofield, a biologist in Marin County at the Institute for Bird Populations, began a social media project about them this year did Berkeley's raptor family achieve a following in more than 40 countries worldwide.
Two webcams installed on the bell tower in January made possible the pair's clever Cal Falcons Instagram, Facebook and Twitter posts, many of them about Carson and Cade — recent offspring of parents Annie and Grinnell. So far, viewers have watched the brothers appear, sport flight feathers, get banded, feast on fresh prey, practice flying and, recently, take wing.
The posts also have included falcon facts, short videos, close-up shots taken with long-focus lenses and fun Photoshopped images — from Carson and Cade in graduation regalia to Annie receiving a Mother's Day bouquet of pigeons — designed to prompt awe and appreciation for these once-endangered animals.
"Our number one mission always will be to prioritize conservation of peregrine falcons," says Peterson. "But close behind that, we want to stoke people's interest in these amazing animals and a grow a community for them. And, we want to increase awareness of the wildlife in everyone's backyard."
Peterson and Schofield, who are married, happily educate falcon fans who pose questions via social media with responses that are factual, friendly and, if necessary, reassuring. A popular one this spring was why a third egg laid by Annie, the mother falcon, didn't hatch.
The couple's efforts — and a live, May 6 Berkeleyside interview that included Vireo, their now 9-month-old son, who wears raptor booties — have resulted in the famlly occasionally being greeted by passersby as "the Peregrine Falcon People."
"It tells me people are interested in the falcons," says Peterson, of the family's nickname, "but I also think it's our baby they remember."
Cal Falcons is a joint effort by seven bird experts who represent UC Berkeley, the Golden Gate Raptor Observatory, East Bay Regional Park District, Institute for Bird Populations and Institute for Wildlife Studies.
Observatory director Allen Fish says Peterson and Schofield "are both serious and focused ornithologists. And yet, they've been able to reach hundreds, maybe thousands, of Cal Falcons fans with their informal and spot-on social media posts and answers.
"This is a great lesson for scientists everywhere; we have many roads to teaching."
A visibility problem
In winter 2016, Schofield, a biologist at the nonprofit Institute for Bird Populations, was working in the courtyard of Berkeley's Valley Life Sciences Building when she heard peregrine falcon cries. "I asked around if there was a pair on campus," she says, "but everyone said no."
Still, Schofield knew what she'd heard. She'd been familiar with falcons since her childhood in Minnesota, where she spent lunch hours watching a pair nesting on her dad's office building. Before moving to California, she also worked at the University of Minnesota's Raptor Center.
So, in early 2017, she and Peterson, along with Berkeley alumnus Doug Bell, the East Bay Regional Park District's wildlife program manager, and Mary Malec, a volunteer raptor nest monitor for the park district and Golden Gate Raptor Observatory, climbed high in the Campanile to look for falcons. The group soon was peeking through grates at a female falcon on a crude nest, on the western balcony above the tower's observation deck, "and she stared right back at us," says Schofield.
"It's good we went up there," she adds, "as the conditions weren't right. The balcony isn't quite level, Annie had laid four eggs — two had rolled away — and the birds were incubating the other two on a torn-open sand bag."
Emergency permission was obtained from state and federal authorities and UC Facilities Services to provide the falcon family with a temporary nest shelf — a large tray with gravel. Peterson and Schofield visited the tower almost every day, watching from below for evidence that the parents were feeding babies at the nest.
"At that point, our main worry was the nest itself, whether they'd have a successful nest, and if the chicks would fledge successfully," says Peterson, whose dissertation in the Department of Environmental Policy, Science and Management is on wetland birds in the Sierra Nevada foothills.
In late May 2017, chicks Fiat and Lux emerged, and a volunteer falcon fledge watch crew assembled below the Campanile. It would monitor the young birds through spotting scopes as the siblings readied to fly and help them if they became stranded.
Young Lux died that July after hitting a window, prompting a bird-proofing of windows around the tower. Yet, his parents, "because they'd had a successful nesting year," says Peterson, persevered: The following year, three chicks — Berkelium, Californium and Lawrencium — were born on the Campanile, this time in a permanent, wooden box, and fledged successfully.
Still, it again was a struggle for Peterson and Schofield to view the nest. "We had no visibility up there, in the tower, and we didn't even know when the female had laid eggs," says Schofield.
And, adds Peterson, "it was hard for people to experience the falcons from the ground."
A fan club takes flight
"I think we were all thinking webcam from the beginning," says Schofield, of the solution she and Peterson had for real-time observation of the birds on the tower. "There are a lot of great webcams for birds," including one for a pair of bald eagles in Decorah, Iowa, and another for albatrosses in Kauai, Hawaii, that's currently on hiatus.
In October 2018, Berkeley launched a successful crowdfunding campaign for two 24/7 webcams, and last February, they were installed — one facing the nest, anotheron the northern balcony — in time for Cal Falcons and the public to observe a new and complete season of hatching and fledging.
As the chicks emerged, the nest webcam activity also was livestreamed on the Berkeley Art Museum and Pacific Film Archive's huge outdoor video screen. More than 500 people stopped by on April 25 to watch, and falcon experts were there to answer questions.
Peterson and Schofield say it's important that their Cal Falcons social media posts not only feature, but explain, the raptors' webcam activity.
"We know stuff will happen — birds die, sometimes— and we want to make sure there is a format where people are in communication with us, so we can help them understand natural history and realize they aren't watching pets," says Schofield.
For example, when Carson and Cade fledged off the tower, with no branches nearby to land on and rest, says Peterson, "we never downplayed how dangerous that time period was. They could end up on the ground, and their flight muscles at first are not good enough for them to take off from there, and they become vulnerable to predators."
Of Peterson and Schofield's posts, says Malec, "Their skill in answering questions is unsurpassed."
The same could be said of their talent for sharing lighter moments, like the time aspiring hunters Cade and Carson caught a moth.
Cal Falcons fans live as far away as Japan, the United Kingdom and the Middle East, says Peterson, adding that neither he nor Schofield "anticipated how much of a following there would be for our posts, or the number of questions and cool opportunities to teach there would be."
He predicts that Carson and Cade will leave the Campanile in August, but says he and Schofield "will keep people up to date with any sightings we have … until breeding season picks up again." Lawrencium, known as "Larry," has been spotted on Alcatraz Island, and she is likely establishing a territory there, says Peterson, adding that a researcher doing seabird surveys there reported that Larry had killed a Canada goose mid-air for a meal.
Schofield says Cal Falcons' social media efforts so far have inspired one fan to take a bird behavior course, several teachers to involve their classrooms and children to submit names for the chicks — Fluffy and Peeppeep made it into this season's naming contest.
"We want the Cal Falcons audience to grow," she says, "and it seems that caring about Berkeley's falcons is something everyone can agree on. If it's a sign of success, the president of the Berkeley College Republicans and the president of Cal Berkeley Democrats began following us on the same day."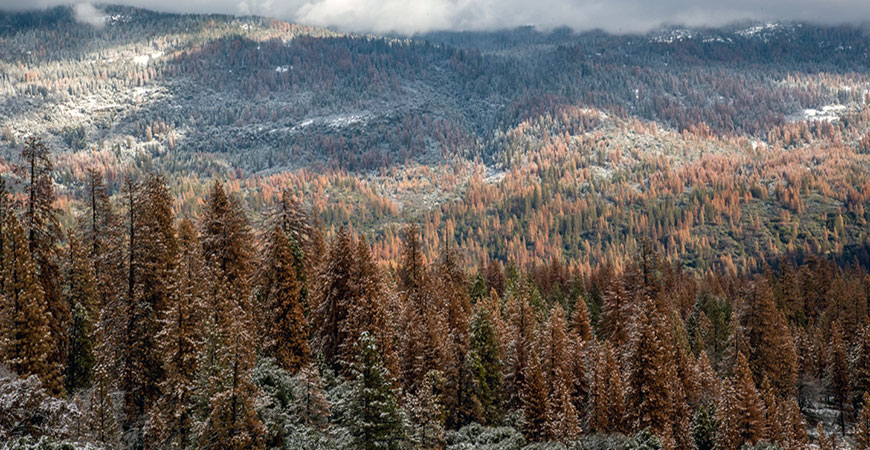 The most extreme drought event in hundreds of years caused a catastrophic die-off of the Sierra Nevada's mature trees in 2015-2016.
A study published today in Nature Geoscience details how UC Merced Professor Roger Bales and his colleague Professor Michael Goulden from UC Irvine tracked the progress of the devastation caused by years of dry conditions combined with abnormally warm temperatures.
The researchers warn that matters are expected to get worse as global mean temperatures increase.
"Parts of the Sierra Nevada reached a 'tipping point' in 2015, where annual precipitation plus stored subsurface water were not enough to meet the water demand of the forest," Bales said.
The trees in California's mixed-conifer mountain forests have roots that can draw water from as deep as 5 to 15 meters down, which has historically protected the trees against even the worst multi-year droughts.
But the severity of California's 2012-2015 dry-spell "exceeded this safety margin," the researchers said. When forest stands exhausted the subsurface moisture, they became vulnerable to attack by pests, leading to widespread tree death.
From 2012 to 2015, the entire state experienced a crippling drought, but it was especially severe in the southern Sierra Nevada. The four-year period was the driest in the past century, combined with below-average precipitation and above-average warmth extending year after year.
"This forest die-off can be viewed as a 'perfect storm' — the intersection of four years of low precipitation, hotter temperatures than in past droughts, and a heavily overstocked forest from centuries of fire suppression," Bales said.
The research was supported by National Science Foundation and the U.S. Department of Agriculture. Observations by the U.S. Forest Service Aerial Detection Survey showed that many tree stands suffered complete loss of mature conifers. Pines were especially hard hit by an infestation of bark beetles.
Sierra Nevada Research Institute Director Bales, Distinguished Professor of Engineering with the Department of Civil and Environmental Engineering in the School of Engineering, and Earth System Science Professor Goulden examined tree communities at a variety of elevations and latitudes in the sprawling mountain range using field and remote-sensing observations.
A post-drought survey found that tree mortality was greatest near 3,800 feet of elevation, with nearly 80 percent loss in 2016.
The study outlines a key factor in the die-off: A period of unusually dense vegetation coinciding with a prolonged drought and warmer-than-usual temperatures. The heat and proximity of trees and plants to one another caused accelerated evapotranspiration — moisture evaporating from leaves and rising up in the sky as water vapor. This caused the trees to draw even more water from the ground.
"We expect climate change to further amplify evapotranspiration and ground moisture overdraft (when more water is taken out of the soil than is replaced by precipitation) during drought," Goulden said. "This effect could result in a 15 percent to 20 percent increase in tree death for each additional degree of warming."
With their improved understanding of the contributions of factors such as elevation, vegetation density, heat, precipitation and soil water amounts, the researchers said they now have a framework to diagnose and predict forest die-offs brought on by drought.
"Using readily available data, we can now predict where in mountain forests multi-year droughts are likely to have the greatest impact, and the threshold at which those impacts are expected to occur," Bales said.